Are you experiencing call quality issues when using VoIP such as delays, crackling sounds or temporary connection losses? Does it happen even with a fast & stable internet connection? If so, voice prioritization may be the solution.
Imagine you are trying to have a VoIP phone call while another network user is streaming videos. Although VoIP calls only produce little traffic, this traffic may have to compete with the heavy stream of video packets congesting the network, resulting in poor call quality. Unlike video packets, voice packets can not be buffered or cached. To ensure decent call quality, voice packets need to be delivered instantaneously with as little latency as possible.
This is where voice prioritization comes into play. It guarantees voice packets a high speed lane even during peak network congestion. For Plasma Cloud Switches and other network infrastructure to be able to distinguish voice traffic from other traffic, two different prioritization mechanisms are enabled:
802.1p VLAN prioritization

DSCP (IPv4 / IPv6) prioritization
Please see this article for details.
| | |
| --- | --- |
| | Prioritizing voice traffic boosts the reliability and quality of your VoIP phone calls. |
Configure voice prioritization
Setting up voice prioritization is a multi-step process, requiring configuration of:
Plasma Cloud Switches on the Plasma Cloud console;

Routers and third-party Switches;

VoIP phones.
This article explains how to configure voice prioritization on the Plasma Cloud console. To learn how to configure voice prioritization on external devices, please see this article. For VoIP phones, see this article
| | |
| --- | --- |
| | Voice prioritization requires a network to be configured with firmware version 3.6 or newer. |
Configure Voice VLAN
Log into the Plasma Cloud console;
Select the Organisation and Network of interest from

top right menu;

Navigate to Settings > Network > Advanced in the main menu on the left

;

Find the Voice Prioritization section and set the toggle to Enabled;
Choose a VLAN from the drop-down menu to become your designated Voice VLAN, or create a new VLAN using the '+' button.

Click the

Save

button to apply the changes.
The Class of service and DSCP values will be set by default to "Voice (VO)" and "46", respectively. You can learn more about this topic in this article.
| | |
| --- | --- |
| | A Voice VLAN is a regular VLAN that has been assigned to carry voice traffic. |
Assign Voice VLAN to upstream ports
Your Voice VLAN needs to be assigned to all upstream ports of your VoIP phone. Please refer to the Layer 2 topology for a visual overview of your LAN and VLAN network architecture.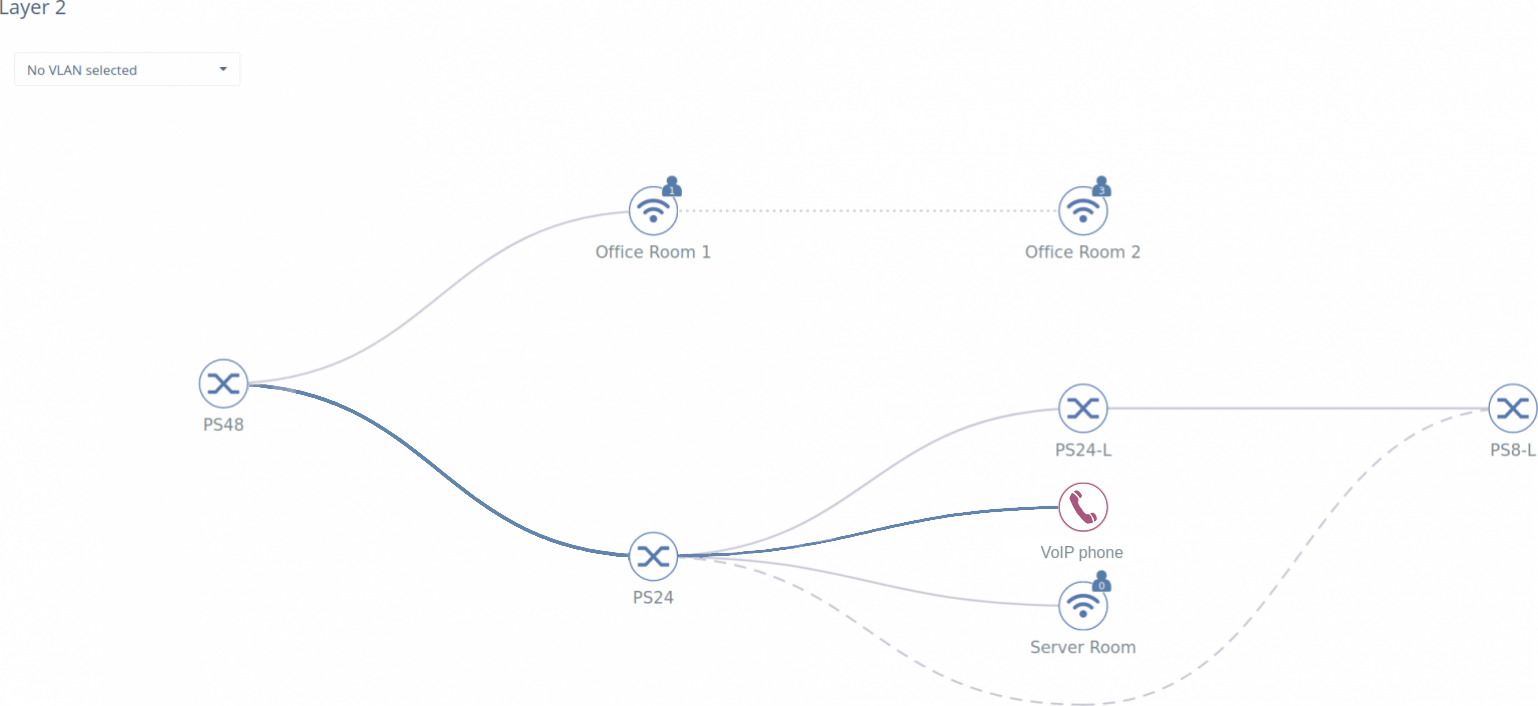 Layer 2 topology highlighting upstream devices from VoIP phone (to your router).
Take note of all upstream devices and ports. Assign the Voice VLAN to each one of them. Click on a device icon to open a popup leading you directly to its settings page. For Switches, navigate to the VLAN settings tab. Select the Voice VLAN from the drop-down menu and assign it to the necessary ports.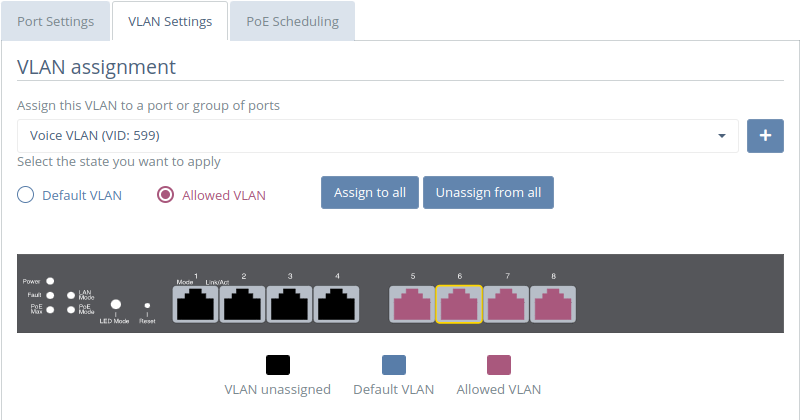 Tip: Consider assigning Voice VLAN to all ports for greater flexibility and ease of management. It allows you to plug your VoIP phone into any port or change cabling without having to worry about Voice VLAN configuration afterwards. Ports can have multiple allowed VLANs and not using an assigned VLAN doesn't harm or affect network traffic in any way.