A maintenance window is a predesignated period of time during which unattended maintenance, potentially causing temporary disruption of service, may be performed.
Generally, it is advisable to configure the maintenance during those times of the day and week when the network is least busy. You can find the most suitable times for your own network by looking at the traffic chart on top of the devices list.
How to configure a maintenance window?
The weekly maintenance window(s) can be configured in your network settings.
To configure your first maintenance window you will need to:
Log into the Plasma Cloud console;
Select your Organisation and Network of interest from the top right menu;
Navigate to Settings > Network in the main menu on the left;
Scroll down until you reach the Maintenance window settings;

Click on +Add to open the popup to add a new time slot;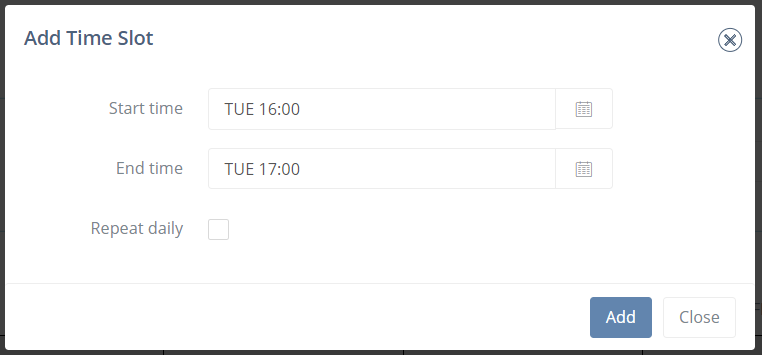 Select the Start time and End time of your maintenance window;
[Optional] Select Repeat daily if you want to apply the selected time slot to all days of the week;
Click on Add.
The selected time slot(s) will now be highlighted in blue in the maintenance window bar.

If you wish to modify or delete a specific time slot, just click on its blue area in the maintenance window bar. This will allow you to either:
Modify the selected time slot and save changes; or
Click on the bin button to delete it.
Of course, you can always add more time slots by repeating points 5-8.
What happens during a maintenance window?
During the configured time of the maintenance window, your devices will:
Automatically configure your WiFi settings in an optimal way based on our built-in WiFi AI, if the option is enabled; and
Perform any available firmware upgrade, if the option is enabled. You can learn more about firmware upgrades in this article.