It is quite common to supply a device with Power over Ethernet (PoE) through a Switch when deploying cloud managed wireless solutions, as it grants you full and remote control over that power line. For instance, you can easily plan when your connected devices should be switched on or off based on your needs.
PoE scheduling allows you to conveniently turn off devices whenever they are not needed. This helps to save energy and money, as well as reducing the burden on the environment. For this reason, we strongly advise to supply power to your devices using one of our PoE Switches whenever possible, and to set up PoE scheduling as required by your deployment.
| | |
| --- | --- |
| | PoE scheduling requires a network to be configured with firmware version 3.5 or newer. |
How to configure PoE scheduling?
The weekly PoE scheduling can be configured in the 'PoE Scheduling' tab of your Switch settings. To do so, you need to:
Log into the Plasma Cloud console;
Select the Organisation and Network containing your Switch of interest from the top right menu;
Navigate to Switches in the main menu on the left;
Click on the Switch you wish to configure in the Switch table;
You will be presented with another page with three tabs. Select the PoE Scheduling tab;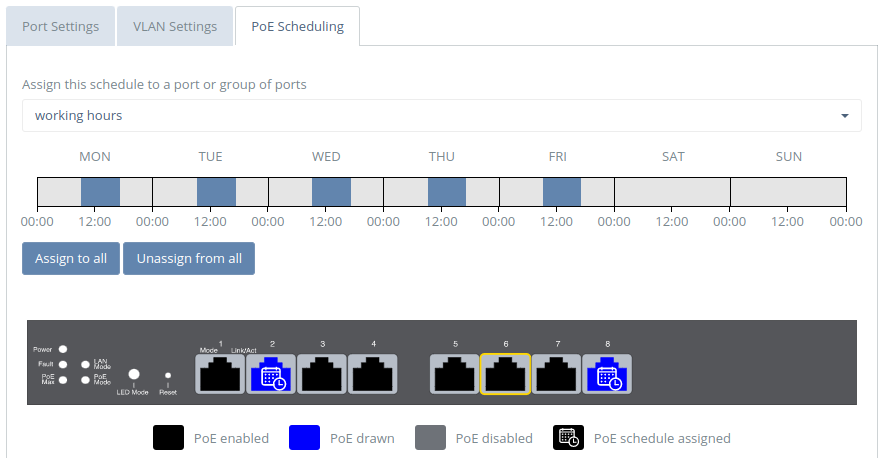 Select a schedule from the drop-down menu. Its

timeline will appear below for easy reference. If needed, you can create a new schedule using the "+" button next to the drop-down menu.

Select the ports you want to assign this schedule to. Either click on individual ports in the Switch graphic; select/deselect all ports using the provided buttons, or click-and-drag a group of ports. The PoE schedule icon will appear on selected ports.
You may repeat steps 6. - 7. as many times as needed for different schedules.
Once you have configured all ports, click on the Save button.
| | |
| --- | --- |
| | Use the PoE Scheduling settings page to get an overview of the schedules assigned to your switch ports. Simply select a schedule from the drop-down menu. If it has been assigned, PoE schedule icon will appear on the respective port(s). |
To learn more about our centralized schedules management, please check out this article.