Port mirroring allows you to copy network packets from one Switch port (source) to another Switch port (destination). Port mirroring is often used to monitor & troubleshoot networking issues.
When you configure a port as mirroring source, all its inbound and outbound traffic will be copied and forwarded to another port. This does not impact the performance of the source port in any way. It will continue to function normally.
The destination port will receive the forwarded traffic. You can then connect a device to the destination port to easily monitor & troubleshoot the mirrored network traffic.
| | |
| --- | --- |
| | A destination port can no longer serve as uplink for its connected device. |
The Plasma Cloud console allows you to mirror data from multiple source ports to the same destination port. It is possible to mirror traffic from Ethernet to SPF or SFP+ ports and vice versa. However, there are technical limits beyond which data loss may occur. Please refer to the final article section for details.
| | |
| --- | --- |
| | Port Mirroring requires a network to be configured with firmware version 3.6 or newer. |
Configure the Source Port
To set up port mirroring, you need to:
Log into the Plasma Cloud console;
Select the organisation and network containing your Switch of interest from the top right menu;
Navigate to Switches in the main menu on the left;
Click on the Switch you wish to configure in the Switch table;
Select the source port in the Port Settings table;
Scroll down to the Port Mirroring section and set the toggle to enabled;
Select the destination port from the drop-down menu. All traffic from the source port will be copied and forwarded to this destination port.;
Click on the Save button.
Visual overview
The mirroring icon will appear on the mirroring destination port while the port is actively used for traffic monitoring (link status connected). By hovering over a port, you can open a popup window with further information. If the selected port is either a source or destination port, you will find more details regarding its port mirroring configuration.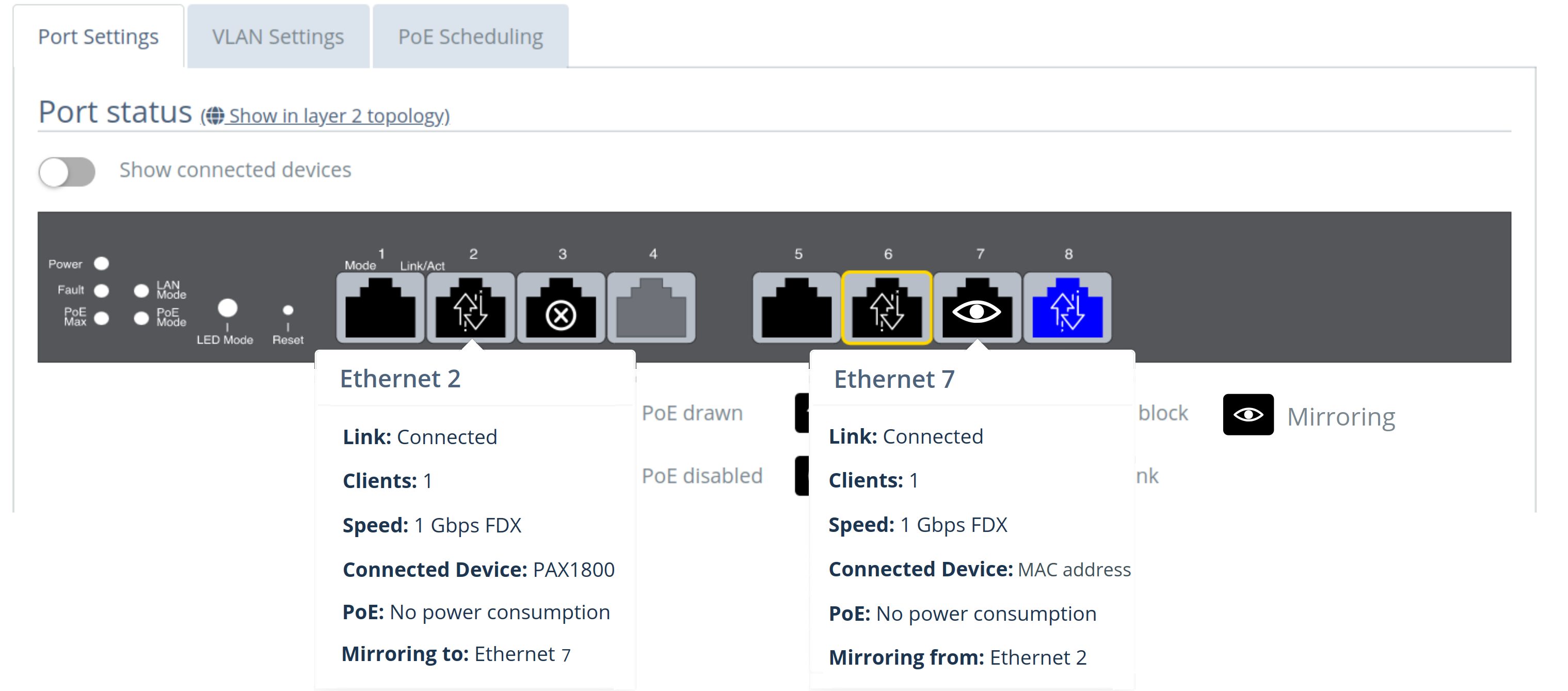 You can also enable the view option "Mirroring" in the switch port table for a comprehensive overview.
Troubleshooting: destination port seems to lose mirrored traffic
Traffic from multiple source ports can be mirrored to the same destination port. However, when the combined traffic from all source ports exceeds the capacity the destination port can handle, data loss may occur.
Example: You have configured two 1 Gbit/s Ethernet ports to mirror data to a single Ethernet destination port. If both source ports operate at max speed, a total of 2 Gbit/s traffic will be copied and forwarded to a port that can only handle 1 Gbit/s traffic. Half of the traffic will then be lost. To resolve this issue, ensure your destination port has the same or higher capacity to handle traffic compared to its source port(s).