PoE Switch ports can power up any PoE compatible device via a simple Ethernet cable. Sometimes, power cycling a PoE Switch port may be required to restore the full functionality of a connected device. The Plasma Cloud console allows you to remotely reboot individual Switch ports through a simple click.
| | |
| --- | --- |
| | Only PoE Switch ports actively supplying power to a connected device can be power cycled. |
In order to remotely power cycle a PoE Switch port you need to:
Log into the Plasma Cloud console;
Select the Organisation and Network your PoE Switch belongs to from the top right menu;
Navigate to Switches

in the main menu on the left

;
Identify the PoE Switch of interest in the table and click on the related row;
Identify the port you wish to power cycle in the table;
Click on the action button (three dots) at the end of the port row and select Power cycle.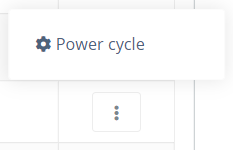 A pop-up window will inform you when your PoE Switch port is power cycling.