The Plasma Cloud console management system is organized in two levels:
Networks contain devices forming a real physical deployment, and their configuration.
Organisations consist of one or several networks belonging to the same entity, such as all networks of a hotel chain, and their shared settings.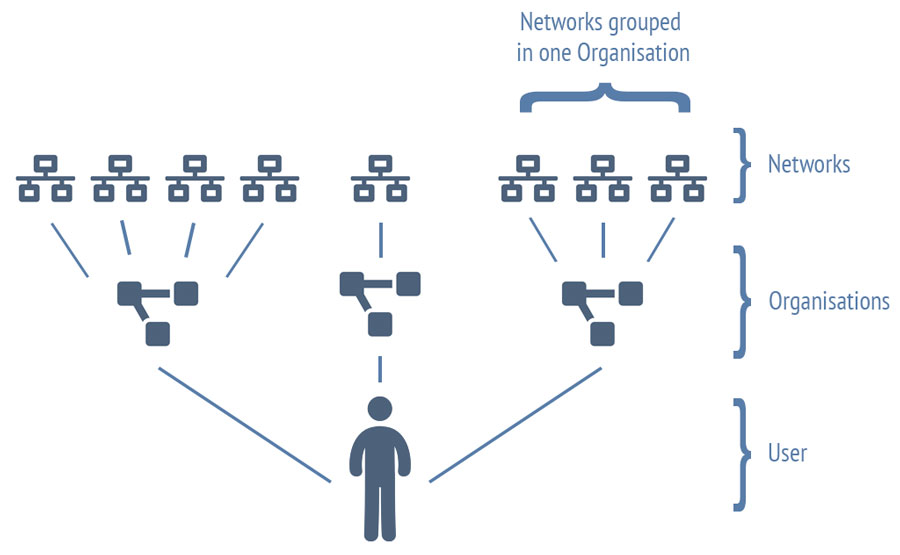 A user can create an unlimited amount of networks which are grouped together under one or more organisations for easy navigation and network retrieval. This tree structure helps greatly in managing multiple networks via a single account.
Example: An IT admin manages many networks for its three customers: a hotel, a restaurant chain and a bar chain. Each customer has WiFi networks deployed in multiple locations. It is recommended for the IT admin to create a dedicated organisation for each customer, containing a network for each individual physical location.
Sharing Access to Organisations or Networks
The Plasma Cloud console allows to share access to either single networks or whole organisations with other user accounts (learn how in this article). This is done to allow for more granular resource management.
Example: A company just hired a new IT admin and wants to grant him or her management access to all networks belonging to a hotel chain. Instead of sharing each network individually, all relevant networks should be grouped into one organisation. Sharing this organisation then allows the IT admin to access all hotel networks in one go. Alternatively, should the new IT admin be responsible for a single location only, access to just a specific network could be shared.
To learn more about organizing and sharing resources, please read this article on multi-tenancy.
Organisation Settings
Another important feature of organisations is that all associated networks can benefit from certain common settings, as listed below:
Splash pages: Once a s

plash page is created, it can be assigned to all networks belonging to the same organisation. This is particularly useful for chains of any kind that wish to display the same splash page across different locations and networks. It allows for a very easy and efficient splash page management, as every change applied to the design or content of the splash page can be applied to all associated networks in one go.

Schedules: The schedules you create can be assigned to operations in any network belonging to the same organisation. This allows you to centrally manage your schedules across multiple networks. Learn more about schedules management in this article.
Service subscriptions: Any service subscription bought via the Plasma Cloud marketplace gets assigned to an organisation (i.e., the organisation selected at the time of purchase). This allows activating a subscription on any of the networks belonging to this organisation. For instance, if a company has an organisation with three networks for which they want to use the same service, they can purchase one large plan with a bulk discount instead of buying three plans for each network. Since the service will be assigned to the whole organisation, they will not only be able to save money, but also manage their subscription for all associated networks at the same time!
Google API Key: The Plasma Cloud console uses Open Street Map by default to display maps. If you want to switch to Google Maps instead, simply add your Google API key in the organisation settings. Google Maps will then be used in all associated networks. Learn more about the Google API Key and how to configure it in this article.
| | |
| --- | --- |
| | Networks belonging to one organisation share the same organisational settings while maintaining their own individual configurations for SSIDs, VLANs and devices. |