Firmware upgrades are essential to keep your devices up-to-date in an ever changing and evolving environment. When you create a new network, the latest stable firmware version is pre-selected. For your existing networks that may be running an older firmware, you can either keep using it or upgrade to a newer version.
| | |
| --- | --- |
| | Certain firmware version unlocks new features in the Console. If specific UI features seem to be missing in your network, please check your firmware version. |
Configure firmware upgrades
Log into the Plasma Cloud console;
Select the Organisation and Network of interest from

top right menu;

Navigate to Settings > Network in the main menu on the left

;

Find the Firmware upgrade section and set the toggle to Enabled;
Choose a firmware version from the drop-down menu.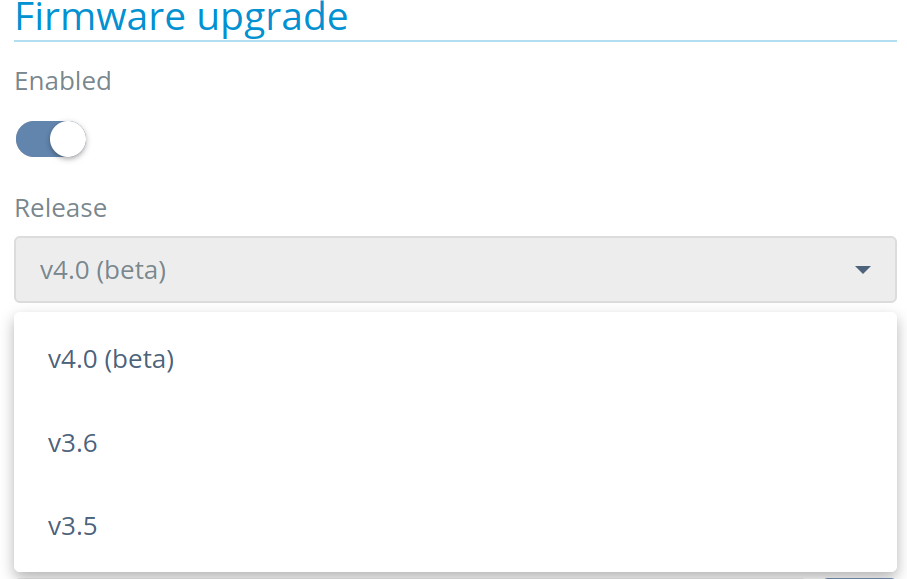 | | |
| --- | --- |
| | Firmware versions with 'beta' label are in testing mode and should be chosen with care. Versions without label are mature stable releases. |
To learn which features are available in which firmware version, please refer to our release notes that can be found here.
Schedule firmware upgrades
It is recommended to schedule firmware upgrades using the maintenance window to manage down times. A maintenance window is a designated period of time during which unattended maintenance, potentially causing temporary disruption of service, may be performed. Without a maintenance window, your devices will auto-upgrade immediately once a new firmware release becomes available.
Learn how to set up a maintenance window in this article.