A schedule is a list of time slots assigned to certain operations that are planned to take place in regular intervals. Plasma Cloud allows you to create as many weekly schedules as needed through a simple graphical interface, and assign these schedules to specific features, such as the maintenance window.
Since schedules are linked to organisations, all associated networks can use them as well. To learn more about the difference between organisations and networks, please read this article.
| | |
| --- | --- |
| | Creating and editing schedules is only available in organizations where you have full access (as owner or shared organisation with edit permissions). |
How to create a new schedule?
To create a new schedule schedule you need to:
Log into the Plasma Cloud console;
Select your Organisation of interest from the top right menu;
Navigate to Settings > Schedules in the main menu on the left;
Click on the +Add Schedule button;
In the popup that appears, insert the schedule name and click on Create.
The newly created schedule will then appear on the 'Schedules' page, ready to be configured as desired.

How to configure a schedule?
To assign new time slots to a schedule, you need to:
Click on +Add time slot in the related schedule or directly on the gray area in the timeline;
In the popup that appears, select the Start time and End time of your time slot;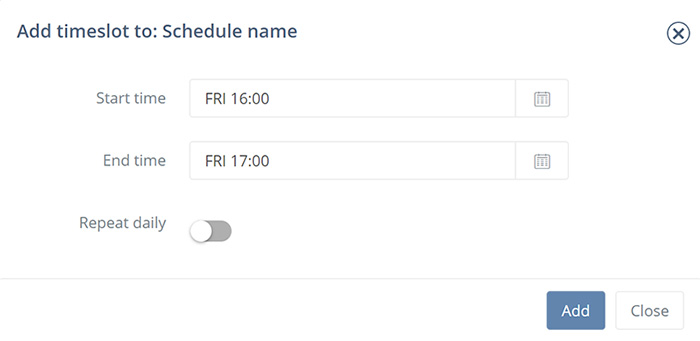 | | |
| --- | --- |
| | When you add a new time slot by clicking on the gray area, its 'Start time' and 'End time' will be pre-selected based on where you clicked in the timeline. |
[Optional] Enable the Repeat daily toggle if you want to apply the selected time slot to all days of the week;
Click on Add.
The selected time slot(s) will now be highlighted in blue in the timeline.

If you wish to modify or delete a specific time slot, just click on its blue area in the timeline. This will allow you to either:
Modify the selected time slot and save changes; or
Click on the bin button to delete it.
Of course, you can always add more time slots by repeating the steps above. If needed, you can even edit the schedule name, clone or delete a schedule by clicking on the action button (three dots) on the top right of the related schedule.
| | |
| --- | --- |
| | If you wish to clean up your schedules page by deleting the ones currently not assigned to any feature, simply click on the action button (three dots) on top of the page and select Delete unused schedules. |