The layer 2 topology provides a visual overview of your LAN and VLAN network architecture and showcases how individual devices are linked together. Thanks to the Link Layer Discovery Protocol (LLDP), it offers unmatched visibility into your wired connections, completely eliminating the need for cumbersome manual mapping. This allows you to easily analyze and troubleshoot your network, which is particularly useful for large deployments and more sophisticated setups. The layer 2 topology can be used to:
Understand the architecture of a network and its VLAN configurations at a glance;
Visualize individual uplink paths across connected Access Points and Switches;
Analyze connections between devices including compatible third party hardware, and identify potential cabling issues;
Monitor the distribution of network load across devices to diagnose throughput bottlenecks.
Accessing our layer 2 topology is very simple - just follow these steps:
Log into the Plasma Cloud console;
Select the Organisation and Network of interest from the top right menu; and
Navigate to Topology > Layer 2 in the main menu on the left.
How does it work?
Upon opening the layer 2 topology page, the architecture of the selected network will be shown. The map presents itself as a tree chart made of various circled icons linked together by gray lines, as shown in the example screenshot below.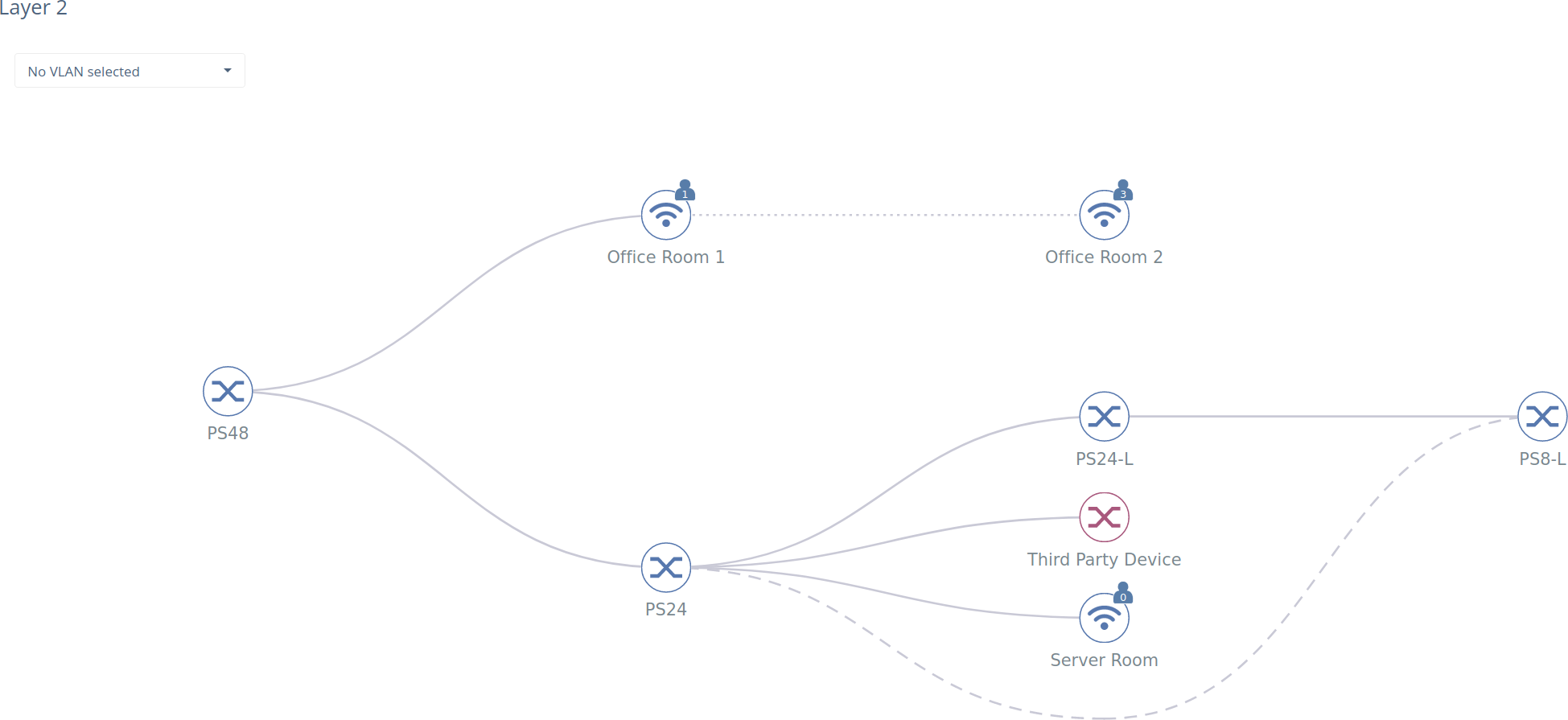 The lines represent wired connections, while the icons indicate a connected device. A different icon is used for each device type:
represents a Plasma Cloud PoE Switch;
represents a Plasma Cloud WiFi Access Point.
A second smaller icon on top of the Access Point icons contains the number of connected clients to the related AP. For instance, this icon
represents a WiFi Access Point with 13 connected clients.
The layer 2 topology is read from left to right. The first device on the left is acting as uplink, providing internet access to all other connected devices in the tree chart.
| | |
| --- | --- |
| | You may use the reload button on top of the chart to retrieve instant layer 2 chart updates at your own convenience. |
Devices and Links
Detailed information about connections and devices becomes available by clicking on a link line or device icon in the chart:
Clicking on a device icon provides information on device model, max path speed (maximum speed from the device to its uplink across the network), and number of clients connected (for WiFi devices only);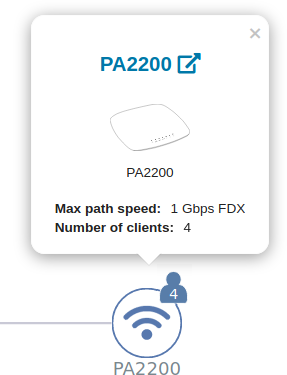 Clicking on a link line between two device icons provides information on link type (Ethernet, SFP or SFP+), speed, status (e.g., blocked by STP) and connected ports.
Links can appear in different forms and colors to represent various information, including:
Ethernet link - a standard network cable connection represented by a continuous line;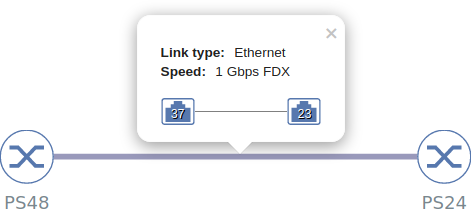 SFP/SFP+ link - a fibre-optic cable connection represented by a continuous line;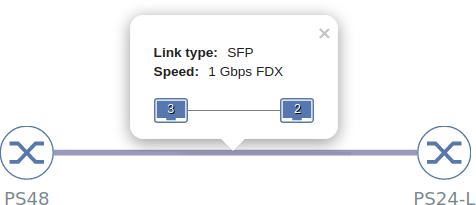 STP-blocked link - when a bridge loop is detected, either over Ethernet, SFP or SFP+, STP automatically disables the link to resolve the loop. STP-blocked links are represented by a dashed line;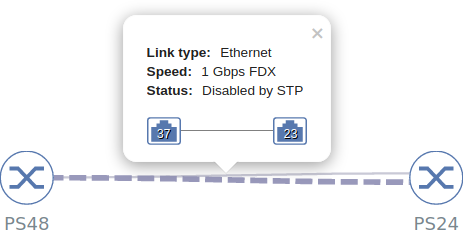 Mesh link - a wireless connection between Access Points represented by a dotted line.

Third Party Devices
Third party devices are highlighted in red in the layer 2 topology. A different icon is used for each device type:
represents a networking Switch;
represents a WiFi Access Point or repeater;
represents a router;
represents a telephone;
represents a station;
represents an unknown device.
Please note that in order for a device to be detected and displayed correctly, it needs to be compatible with LLDP. All Plasma Cloud hardware follows this industry standard. However, some information about third party devices, although supporting LLDP, will be missing. For example, automatic detection of link speed and port status will not be supported. A crossed out "i" icon will appear to indicate when information is missing, as shown in the example screenshot below.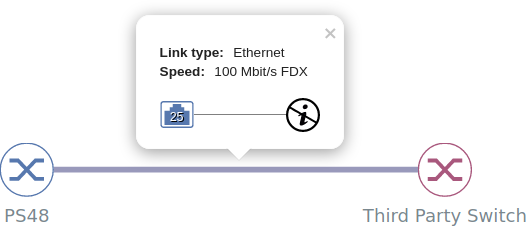 VLANs
The layer 2 topology also allows you to visualize VLAN configurations across your network. To do so,
Click on the drop-down menu on top of the chart which is set to No VLAN Selected by default; then
Select the VLAN of interest in order to highlight all Switches and Access Point with this specific configuration.
Devices not part of the selected VLAN will be grayed out in the chart, driving the focus on the devices of interest.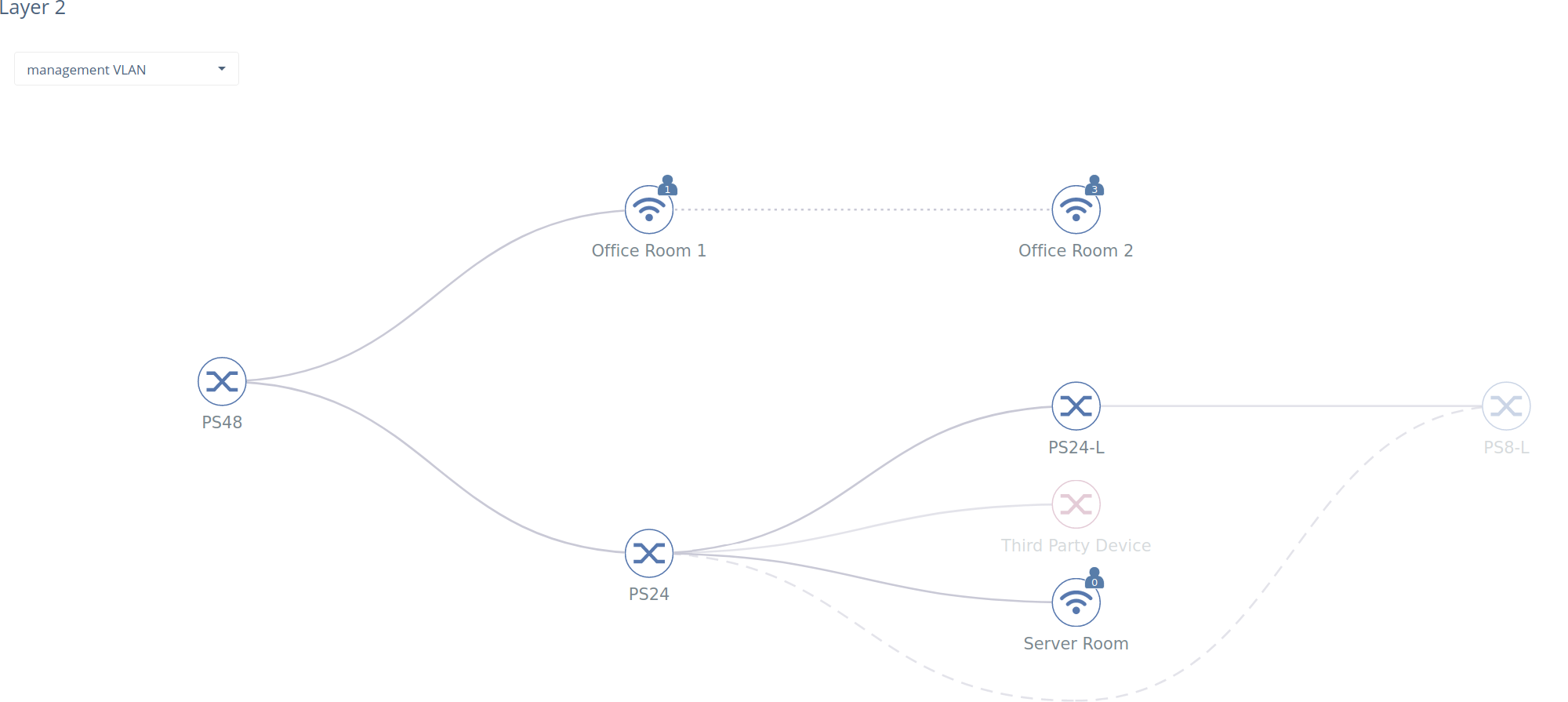 Troubleshooting
As previously mentioned, the max path speed value shown in link popups indicates the calculated traffic speed from a device to its uplink across the network. This allows you to identify speed bottlenecks throughout your network.
If two connected devices have different link speeds configured, the link between them will be highlighted in red and the error Mismatching values will be shown in the link popup.

In case this happens, the connection could be slower than expected or the client could experience packet loss. The issue can occur when one device has a manual link speed configured while the other is set to automatic. To resolve the issue, please ensure both devices have identical configuration settings (both set to automatic or manually set to same value) and cables are working as expected.
Whenever data cannot be retrieved by the cloud, the message No data available will appear instead of the chart. In case this happens, please ensure your internet connection is working and click on the reload button on top of the chart to refresh the layer 2 topology with updated information.