Plasma Cloud keeps a history of all the changes you make to the various console settings and offers you the option to:
View your settings history at any time; and
Restore your settings to previous states whenever needed.
These functionalities are especially useful to keep track of the changes made when you are working as part of a team or have recently tried several different setups and want to quickly retrieve an earlier one.
You can view and restore the settings history for each settings page in the

Plasma Cloud console

: organisation settings, network settings, SSID settings, VLAN settings, splash page settings, as well as a specific Access Point, Switch or Client settings.
View Your Settings History
To view your settings history, you need to:
Log into the Plasma Cloud console;
Select the organisation and network containing the settings of interest from the top right menu;
Navigate to the settings page you want to view settings history for in the main menu on the left;
Click on the action button (three vertical dots) next to the Save button on the top right of the page and select Settings history.
You will then be presented with the settings history page, as depicted below.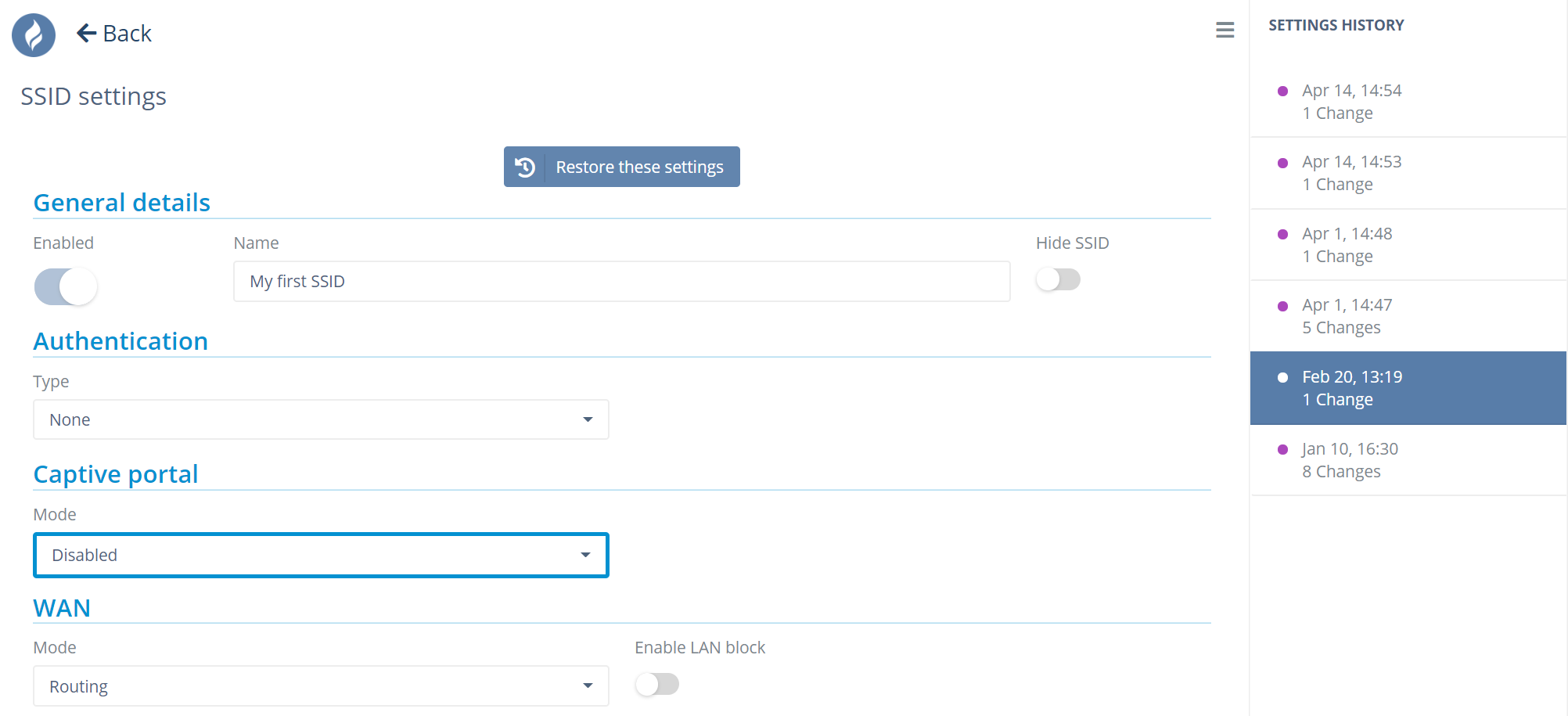 On the right column, you can visualize the timeline with every single change that happened in your settings. Every time your settings are successfully updated, a new change is added to this timeline. On the left, you can see the settings page you are checking the history for, as a quick and clear reference.
Clicking on a specific change in the timeline will highlight the settings that were updated in the reference settings page. To return to the current version of the settings, simply click on the Back arrow on the top left of the page. Clicking on the Plasma Cloud logo will instead lead you to the Overview page.
Restore Previous States
If you wish to restore a previous version of the settings instead, you need to:
Select the change you wish to restore from the timeline;
Double check that the settings are the desired ones by checking out the highlighted changes;
Click on the Restore these settings button on the top of the page;
On the popup modal that appears, click on the Restore button to confirm.
You will then be redirected to the main settings page, while a popup message will appear to confirm the settings have been restored successfully.