Purchasing a service on the marketplace only requires a few clicks thanks to our easy-to-use platform. You can add and combine multiple services on the same network according to your use case and budget. This way, Plasma Cloud's marketplace aims to offer unmatched possibilities and flexibility.
If you are interested in subscribing to a service, please follow the instructions below.
Before you proceed, make sure that:
You can now select and activate your first service subscription:
Log into the Plasma Cloud console;
Navigate to Marketplace in the main menu on the left;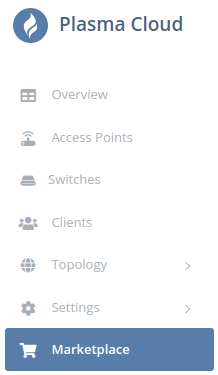 Select a service from the list of available offers and click on Details.
A setup wizard with more information about the selected service will appear. Click Next to proceed to the next page;
Select the plan that best serves your needs under Plans and click Next;
Specify the network(s) in which this service should be activated under Quantity. You can even purchase licenses in bulk and add them to your network(s) as needed over time. Thereby, you can reduce your administrative overhead and in some cases enjoy discounts for bulk purchases. Just increase the number of licenses under Your order if you wish to do so. When ready, click Next;

| | |
| --- | --- |
| | Licenses are activated immediately upon payment, even if they are not assigned to any network. This means that the expiration date is the same for all the bulk-purchased licenses. |
Check the details of your order under Summary and click Next;
Review the terms and conditions, if any. Click on agree and Checkout to proceed;
You will be redirected to the payment page. Select a saved credit card from the drop-down menu or enter a new credit card information and then click on Purchase. Your subscription will be activated immediately upon payment.
At any time, you can see all the services you have subscribed to by navigating to Settings > Subscriptions in the main menu on the left.
To find out how to configure a service after subscription you can read this article.