Sometimes, power-cycling a device may be required to restore its full functionality. The Plasma Cloud console allows to reboot devices from anywhere, anytime through a simple click.
In order to conveniently reboot a device you need to:
Log into the Plasma Cloud console;
Select the network your device is currently in;
Navigate to Access Points or Switches - depending on the device type you wish to reboot;
Find the device in the devices table;
Click on the action button (three dots) at the end of the device row to open its menu; and
Select Reboot;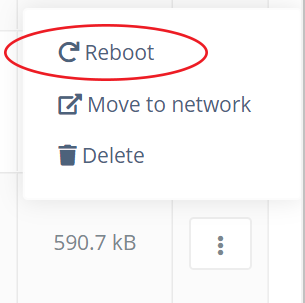 Your device will now reboot. Please allow up to 5 minutes for this action to complete. A pop-up window will inform you once your device is rebooting.