The RF topology provides a quick overview of the wireless environment surrounding your network. This topology visualizes all neighboring networks and their respective WiFi channels, allowing you to quickly and easily spot signal interference.

Whenever your WiFi speed appears slower than expected, you can run a RF scan with this easy-to-use troubleshooting tool and choose the most appropriate channel for your devices.
| | |
| --- | --- |
| | We suggest manual channel configuration for advanced users only. Generally, the use of the automated WiFi AI function is recommended. Regular WiFi setting updates (depending on the maintenance window configuration) provide reliable and continuous adaption to changing RF environments. |
How does it work?
You can access the RF Topology by navigating to Topology > Radio Frequency in your Plasma Cloud console. For each device, information on radio channels per WiFi band (2.4GHz and 5GHz, respectively) will be shown on a map.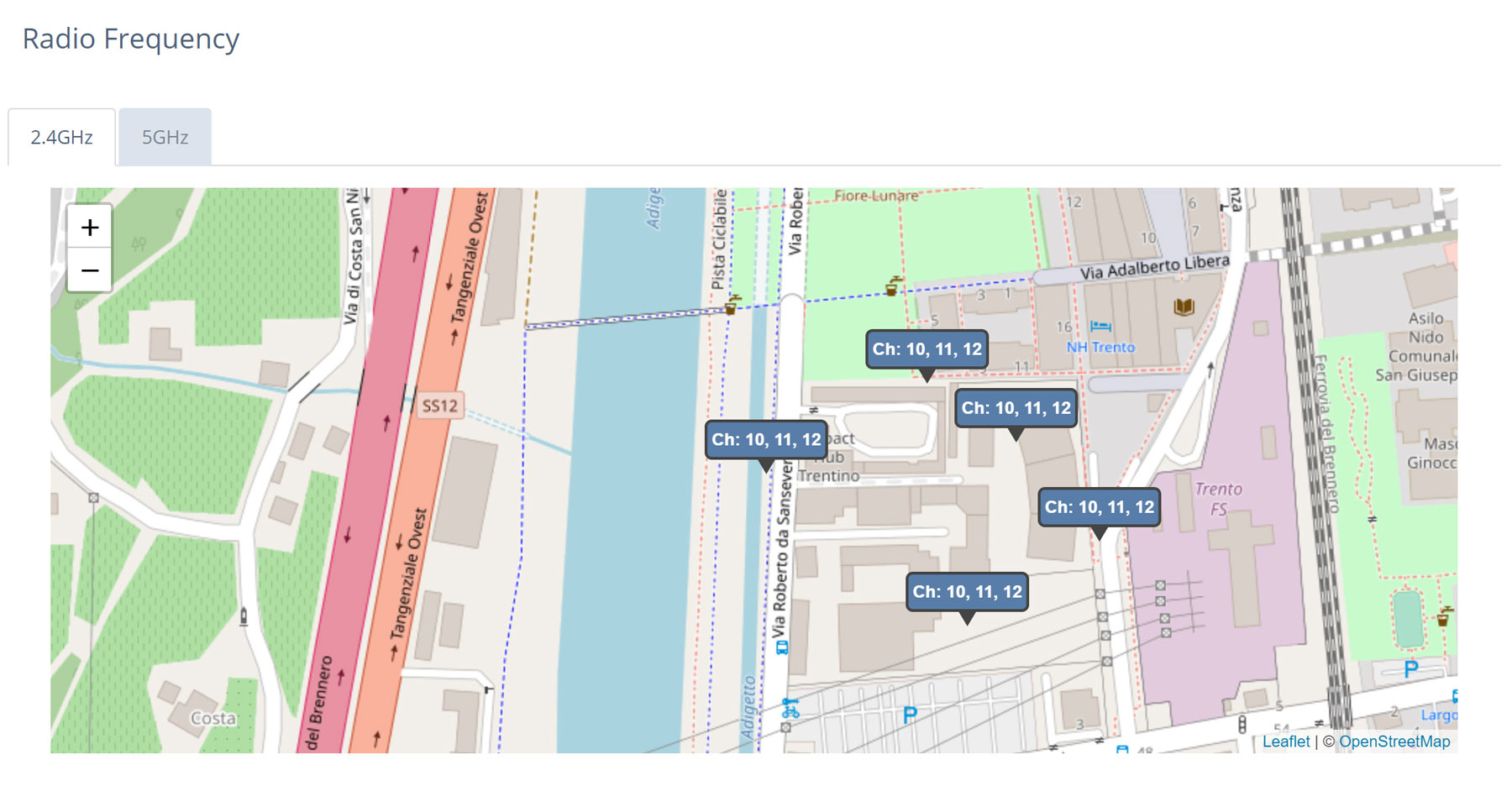 By clicking on a single device on the map you will be presented with its WiFi topology chart. Depicted is the channel occupation of the selected device, other devices in the same network as well as third party WiFi networks. Also depicted on the chart is the signal strength of all nearby WiFi networks as measured by the selected device.

How to read this graph?
You can quickly recognize devices belonging to your own network. The device you clicked on is represented by the grey shaded area. Devices belonging to your network appear in blue. Every third party network is shown in red. The horizontal axis represents occupied WiFi channels, while the vertical axis shows their signal strength.
By hovering over the colored areas in the graph, you can obtain specific information about the WIFi network, including its name, BSSID, occupied channels and signal strength.
Thanks to the slider at the bottom of the graph, you can also easily filter networks by signal strength. This is especially helpful in very crowded areas. In such cases, the number of surrounding networks may be so high that it complicates evaluation of your best available channel. For this reason, you can also decide to hide specific networks from your graph. Simply click on the name of the network you want to remove from the graph. Click on the name again to add the network back in.
For your convenience and full network transparency, you can also perform live troubleshooting. Our RF topology can inform you about any WiFi signal interference at the time of your scan, allowing for troubleshooting on the spot. Obtain live data by clicking the reload button next to the Access Point name over the graph (see previous image). However, please be careful using this functionality as WiFi clients connected to a device performing a radio frequency scan may experience temporary connection drops or slowdowns.