The Plasma Cloud Console offers multiple ways to add devices for your ease of management.
To add a device, you need to:
Log into the Plasma Cloud console;
Select the Organisation and Network of interest from

top right menu;

Navigate to Overview page or Access Points / Switches in the main menu on the left;
Overview Page
Here you will see a world map. Find the specific location where your device will be installed. You can zoom in and out of the map using the mouse wheel or the plus and minus buttons in the top left corner. Press and hold down the mouse button or use the arrow keys to move along the map.
Then, click on the map to open the add device popup window. You can either type in the MAC address or scan the QR code found on the device label. Give your device a name and press Create.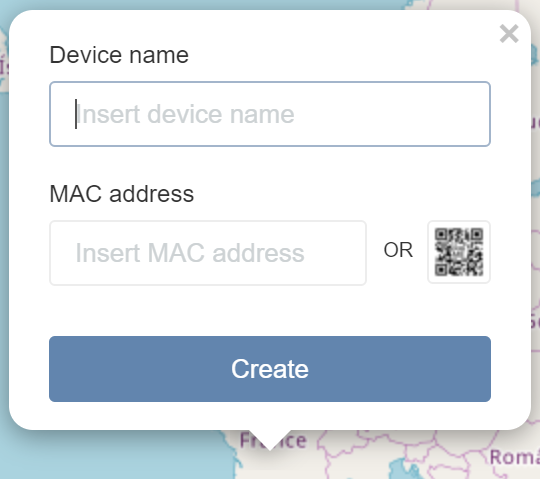 Access Points and Switches Page
You also have the option to add an Access Point or Switch on the respective page found in the main menu on the left. Select the relevant page and click on the the "+ Add AP" or "+ Add Switch" button that can be found under the traffic chart. It will open the add device popup window shown above.

You may repeat this step multiple times to add more devices to the same network.
Troubleshooting
A device cannot be added if:
the device exists in other user account;
incorrect spelling of MAC address;
third party device not whitelisted for Plasma Cloud use;
If a device already exists in your account in another network or a shared network you have modify / delete permission for, the move device popup window will open. You can choose to move the device to your currently selected network. Please note that network and organisation specific device configuration may be lost. For more details, please see this article.